Classes taught by experts who watch over our community every day.
Local Experts. World-Class Knowledge.
It takes a lot of work to build the skills that save lives, and even more work to keep that knowledge fresh. Nobody knows the techniques and the challenges of learning them better than the people at Rockford Ambulance, your local non-profit paramedic ambulance service.
Know what to do when seconds count.
Through Rockford Training, you learn emergency health care techniques directly from the experts — the people who protect our community every day. Sessions cover health care techniques at all levels and for all audiences.
Come to our classroom or learn at your location.
Our flexible class schedule makes the knowledge you need available at times that work for you. Our Rockford health care classroom hosts a rotating calendar of regular classes to meet your needs. Or, if your group needs a more specialized training experience, our experts can teach at your site.
Call us today and learn how we can help you save a life. 616-863-8434
On Site CPR Classes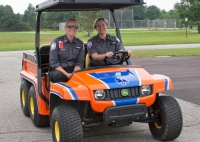 We would be happy to bring our classroom to you. If you have a company or group who would like to have a class taught at your location we can accommodate you.
We offer onsite classes including Heartsaver CPR, First Aid, and BLS for Healthcare Provider CPR.
Frequently Asked Questions
About Our Programs
I have not received the email for my eCard, how do I claim my eCard?
The email was sent from ecards@heart.org, add this to your safe sender list. You can also go directly to www.heart.org/cpr/mycards and claim your ecard. You can use that same website to view your eCard anytime, no more lost cards. Please call 616-863-8434 with any additional questions.
Can I take a regular BLS class when I need a BLS Renewal.
Absolutely! BLS renewal students can take either the Renewal class or the regular class. Feel free to contact the office if you have any questions. 616-863-8434
My BLS card is not expired but you do not have any renewal classes available before my card expires, what can I do?
All BLS students can take the regular BLS class we offer. The renewal class is only for students that have taken BLS and their card is still valid.
Where can I find the location of my class?
Please visit the locations tab under training and education. Here you will find a full listing of our class locations, as well as addresses and directions.
What happens if I need to cancel or reschedule my class?
Please see our cancellation policy under terms and conditions while enrolling. If you have additional questions please call 616-863-8434.
Will you come to our business and certify our staff on-site?
Yes! We offer special pricing to companies who wish to have their training done on-site at their location. Please call our office at 616-863-8434 for prices and more information.
What curriculum is taught at the classes through Rockford Ambulance?
We teach the American Heart Association curriculum following the most up-to-date 2015 guidelines.
Use our online payment service to securely and conveniently pay an ambulance or wheelchair van bill, or to make a donation.
We offer a membership program called the Care Plan to residents in our service area. $50 per year covers out-of-pocket expenses for medically necessary ambulance transports to the hospital if you have insurance. If you do not have insurance, your membership entitles you to a 50% discount on your total bill.
We serve Rockford, Cedar Springs, Lowell, Sparta, Sand Lake, Belmont, Kent City, Algoma, Alpine, Cannon, Courtland, Grand Rapids Charter, Grattan, Lowell, Nelson, Oakfield, Plainfield, Solon, Sparta, Spencer, Tyrone, Vergennes and Chester.
The social side of Rockford Ambulance. Staff, events, happenings. Keep up with our latest.